Timing is everything! Save money by selecting the right season for your trip – some times of year are less popular, but no less enjoyable for certain destinations. And travel on the right day of the week – traveling on a Friday, Saturday or Sunday is usually more expensive than weekday travel.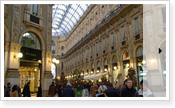 Shopping in Milan
Milan offers the latest fashions from many designers. La Plaza de Il Duomo offers views of the spectacular cathedral of "Il Duomo" surrounded by fashion stores for any budget.
Design your trip...


Voyage by Design organizes customized trips around the world – with knowledge, experience and passion.

Great travel doesn't have to be expensive; with our tips and assistance you can travel to beautiful places and stay in beautiful hotels – at the right price.

Without paying any fees, you can take advantage of our knowledge and expertise, instead of spending hours doing travel planning yourself on the computer or the phone.


At Voyage by Design, we often work with tour operators and consolidators who work only with travel agents, not directly with the public. These companies have contracts with Airlines, Hotels, Rental Car companies, and Cruise companies to obtain discounted travel in bulk. Their rates regularly beat published costs, often by a substantial amount, and we pass along the savings to our clients.


We can handle all your travel needs. We design individual and group trips – including school groups, family reunions, honeymoons & anniversary trips, package tours, cruises, and all international business and leisure travel.
We can bring you to a Europe full of history, to the magical Orient, to beautiful Australia & New Zealand, to experience the scenic Wonders of the USA and Canada, or to relax in the colorful Caribbean Islands.
As a native Italian, agency owner Myriam Renzi is an expert in travel to Italy. Far beyond the ordinary, Voyage by Design's travel planning for Italy often includes private villas at less than hotel cost, personal cooking classes, and more.
Just tell us where you want go, and we'll bring you there!